by Margaret Bullitt-Jonas
Missioner for Creation Care

This essay is based on opening remarks by the Rev. Dr. Margaret Bullitt-Jonas at a Community Forum, "Tackling the climate crisis now," held at St. John's Episcopal Church, Sandwich, MA, on November 4, 2018. The other speakers were Dr. Philip B. Duffy (President and Executive Director, Woods Hole Research Center) and the Rev. Dr. Paul Minus (Co-Chair of the Cape & Island Faith Communities Environmental Network). The event was part of a new initiative in Massachusetts to bring together scientists and faith leaders in a shared effort to address the climate crisis.
I brought two props with me: a globe and an icon. The globe represents the world outside us: the precious living planet into which we were born, with its complex eco-systems, its lands and waters, its diverse multitude of creatures, and its delicate balance of gases that make up the global atmosphere. The globe represents the outer landscape – what science studies.
The icon represents the world we carry inside us: how we make meaning, what we value and consider important, what motivates us, what we feel, what we long for, how we choose to act. The icon represents the inner landscape – what religion explores.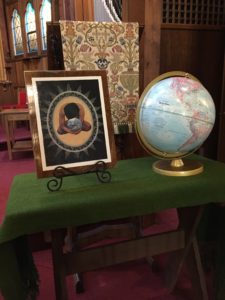 Scientists have done their job – they've conducted research, carried out experiments – and now they are speaking with increasing alarm about threats to the web of life and to human civilization. In the last few weeks we've experienced a one-two punch. The World Wildlife Fund just reported that 60% of mammals, birds, fish and reptiles have been wiped out since 1970. This massive annihilation of wildlife now threatens human civilization, which depends on a healthy natural world. And several weeks ago the U.N.'s Intergovernmental Panel on Climate Change released a major report that shows that planetary warming is well underway and that time is running out to avert climate catastrophe: we have maybe ten or twelve years. To avoid runaway climate change will require a radical transformation of society from top to bottom at a scale and pace that are historically unprecedented: never before in human history has our species changed its way of living that dramatically and that fast. Read more

Read Margaret Bullitt-Jonas' recent sermon, All Saints: On Being Good Ancestors

Read newspaper coverage of Bullitt-Jonas' talks on this issue:

Sandwich Forum Focuses on Spiritual Collaboration in Efforts to Fight Global Warming

Faith and Science Communities Join Forces to Change the World
Author
The Rev. Dr. Margaret Bullitt-Jonas is the Missioner for Creation Care for both the Episcopal Diocese of Western Massachusetts and the Southern New England Conference, United Church of Christ.